DIY: Anthro Knock Off
Posted: January 23, 2013
Filed under: Design, DIY
| Tags: Anthro, beginners, diy, knock off, sewing, tees
Leave a comment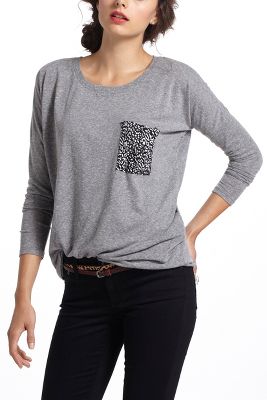 Nauticus Pocket Top
Anthropolgie has these adorably simple tees with a mismatched patterned pocket. This past weekend I snagged two plain v-necks from Old Navy and selected two small pieces of fabric from my overflowing baskets. The project only took half an hour to do both pockets.
What I loved most about this quick project is being able to choose which ever fabric I want for the pockets.You aren't limited to a store's selection, two solids, or even one solid. Another adorable option would be a striped tee with a floral pocket.
Make sure to cut the pocket larger than you want it to ensure having seam allowance.
---